The programme is designed for professional dancers or dancers in professional training i.e. a full time programme (BA/MA) in an international school/institution of higher dance education. The project week is part of the advanced programme. Therefore it's only accessible for professional dancers or dancers in professional training i.e. a full time programme (BA/MA) in an international school/institution of higher dance education.
Advanced programme
The advanced programme offers a different range of classes which the participant can choose from, please remain aware not to pick classes starting at the same time.
! It's not possible to opt for two classes with the same teacher during the same week. However, it is possible to combine a class and a workshop led by the same teacher.
!! We strongly advise you to take at least one morning class as a preparation for the work in the afternoon.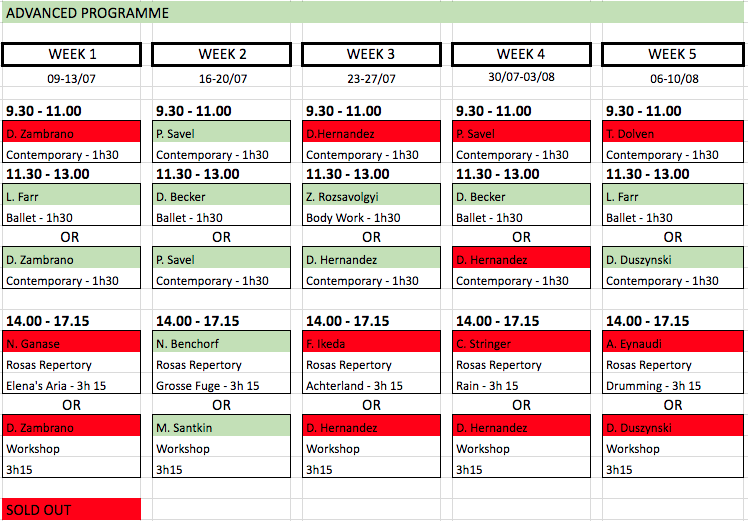 Project week
The professional project week gives the dancer an insight to the creative process of a choreographer. It is an invitation to collaborate, create and discuss within the set-frame of the choreographer's work. An optional showing might take place on Friday (18h15), depending on the decision of the choreographer. Please take this into account when scheduling your travels.

Ballet class descriptions
Libby Farr
The ballet class evaluates and re-evaluates the dancer's body and is built on the classical structure of a ballet class with the objective to focus on strengthening the dancer's awareness of his or her own natural alignment and experience. The class is divided into two parts: the barre and the center practice. Exercises at the barre emphasize isolating and releasing the joints in order to strengthen the dancer's core awareness and to find where the movement begins in the body. By supporting the functional body placement, it becomes more natural and fluid, rather than stiff and held, allowing the movement to be less stressful. The second half of the ballet class, conducted in the center, continually challenges the dancer to use the newfound placement when having to shift weight and carry the body through space. Motivation, flow of movement, and momentum are key points to help the dancer to move from the core and inner muscles supporting a greater freedom of dynamic and expression. The dancer gains a stronger sense of confidence to take space and go beyond technique.
Douglas Becker
Douglas Becker proposes a ballet class as a collaborative setting where new information and knowledge, about the moving body in relationship to form and history happens in the moment. Barre and center are constructed to rigorously support the study of technique as studio practice accentuating somatic awareness and attention to the multiple perspectives on dynamics alongside varied spatial concerns. We will work on developing an agile relationship between the head, shoulders, arms and legs while also considering ballet as a system, and as "changeable architecture". Attention is given to interior mechanics driven by counterpoint. Throughout the class, attentiveness to the musicality of the form gives insight into the various understandings of tempi and interacting rhythms. Combinations and phrase work change depending on both age and desire within the group. We will move, together, to know.
Contemporary class descriptions
David Zambrano - Flying Low
This workshop focuses mainly on the dancer's relationship with the floor. The class utilizes simple movement patterns that involve breathing, speed and the release of energy throughout the body in order to activate the relationship between the center and the joints, moving in and out of the ground more efficiently by maintaining a centered state. There is a focus on the skeletal structure that will help improve the dancer's physical perception and alertness. The class includes partnering work and movement phrases, which explore the primary laws of physics: cohesion and expansion.
Peter Savel – Letting Go
Peter Savel has been developing and evolving his classes since graduating from P.A.R.T.S, he sees this as an opportunity to go back to himself. Working more and more with non-dancers as well always being curious about the wider context of dance, he is not interested in dance techniques as such. He'd rather see movement and views dance as a mean to re-access his full potential. The questions he asks is simple "where do we stand in our own way and what makes us hold back?". By becoming aware of these patterns, believes, thoughts, fears or habits, Peter believes we can let go of them. Letting go refers to more than muscular tension and physical efficiency, though Peter uses these as the pragmatic and grounding elements in accessing the les graspable areas of thought, emotion and intuitions. In this class, he wants to come back to a space he believes we are all capable of reentering. This is a space of total creativity, which he believes is innate to all humans and can be used in any life situation and constellation. It is a state we all know and passed through during childhood. The simple difference between childhood and now is the awareness of a state and therefore the possibility to be in it consciously. More concrete, during the classes Peter works with methods, principles and exercises to go back to himself, through body and movement into the core of his body. In this process he strengthens his body and realigns it with his core. At the same time the experiences of accessing this space allows him to understand where he can expand, what he can let go and how, what he's always been capable of, but for some reasons didn't allow it to fully manifest. In other words, rather being busy with "doing right or well" it is " doing the best that you can right now and learning from the observation of this process. Peter is very busy with his personal learning process but uses many methods ( verbal and non-verbal) to share this with a whole group at the same time. Learning from each other strategy and methods, breaking the illusion of being alone or even isolating his particular experiences. Thanks to this he is able to create a safe environment. It is safe enough to allow someone to fail so he/she can expand into al directions of his/her own.
David Hernandez - Dynamic Movement Systems
David Hernandez is interested in movement, training the body and expression through detailed and precise movement, without the loss of the dancer's individual expression. he is developing an approach to dance technique and movement vocabulary that embraces physicality, craft and approaches the body as an instrument. The class is highly physical with an emphasis on detail. We concentrate on establishing a clear, efficient body alignment as a base to move from while making gravity our partner through discovering the notion of falling and redirected weight. There is an exposure to very specific, dynamic movement vocabulary that concentrates on moving weight, density, texture and the musicality of physical material. All parts of the body are used to gesture, often play against each other like contrapuntal melody lines. The form is clear and provides a partition in which the dancers can challenge themselves against its rigor while finding a personal approach to the material. Each individual and individual body is different, therefore the material must be translated by each person in their own unique way while honing and crafting the material on their particular body. The class gives the keys to do this while providing tools and skills usable in other styles of work as well.
Dominique Duszynski - The Essence of Movement
Dominique Duszynski proposes a dynamic and fluid dance class made up of both, floor and standing work. The first priority is to open up and broaden each individual's knowledge of the anatomical aspects of their dance. And so, isolating body parts, is an essential basis for the warming-up and development of the dance phrases. Geometry, alignment and supports are explored to encourage an awareness of a body that is both grounded and light. The relationship between movement and weight distribution is an ever-present element of the work. Energy, grounding and spatial awareness are all needed to cultivate and refine the subtleties and details of the body in motion. The goal is to access the essence of movement, to experience the lines and flow that pass through the body and may deepen the dancer's sense of perception. The dance phrases are proposed according to the art of movement inspired by Pina Bausch and by the concepts of dynamics and space developed by Rudolf Laban.
Tale Dolven
Tale will be teaching a technique class based on the personal training she herself does in order to maintain her dance-level. Strengthening and flexibility-work is part of the warm-up, and coordination and multiple directions in the body and in the room are key-words for the dance-material. The aim is to wake up the body and the mind.
Body work descriptions
Zsuzsa Rozsavolgyi - Soft Tissue Balancing
The workshop is put together as a unique experimental anatomy workshop built for the physical and intellectual need of a contemporary dancer. During Zsuzsa's extensive touring schedule, she had to come up with solutions to heal herself. She needed to find answers to why she was having pain in her ankles, lower back, knees, and neck… Studying the anatomy of the fascia tissue in the body gave her answers, and she started to experiment with her own body. She came up with a lot of simple solutions to heal overuse, injuries and chronic pain. The nature of the fascia tissue is best described by Mabel E. Todd in her book The Thinking Body: "When one part moves, the body as a whole responds. Functionally, the only tissue that can mediate such responsiveness is the connective tissue. If there is a disturbance in the flow of motion (blocked joint, injury, scar tissue, over-use…) the body's response is to shift the structure away from the pain, some parts start to hold more weight and become harder, which leads to overuse and the pain you had originally is moving to another part." In the workshop we learn the fascia meridians, and we learn how to work with these meridians. Through the theoretical knowledge of anatomy, we will gain an understanding of different alignment problems and their relation to pain patterns. We will conduct experiments on how we feel the fascia moving, we learn the rhythm it stretches and expands, and we learn therapeutic movement exercises to unlock the potential of strength, flexibility and elasticity in our bodies. Soft Tissue Balancing is built to harmonise alignment and synchronise movement patterns.
Workshop descriptions
David Zambrano - Passing Through
In the making of movement compositions, David Zambrano focuses on creating and developing the dynamics for complex systems to present leadership in the form of a group web. In science, cells do not need a protein leader to create life. Neither does the brain need one protein leader to create a thought. With this in mind, Zambrano feels that movement needs no leader in creation. The "passing through" takes students through various exercises to manifest that same philosophy. The group will create dynamics that will be flexible, complex, getting the group to fit tight together, yet always keeping doors open for the unpredictable. The group moves constantly, transforming the environment of the dance. After taking part in the "passing through" the student will learn to instantly connect with their environment and become more spontaneous in the making of choices as an improviser, choreographer or dancer in someone else's work.
Manon Santkin - HANDLING with the body
Around the (supposedly) simple gesture of grasping with the hand. Handling is the action of manipulating something with the hand, using the hand to approach, sense, grasp and maybe move something. Through an intuitive use of the sense of touch, we'll enquire how a body (be it an object or a person), in its singular form and material, invites for a specific way to be handled. We will work towards developing a sensitivity to be guided by the form itself and by 'how it feels'.When I approach an object, is it my hand grabbing the object or is it the object shaping my hand around it? Through a practice sensing through touch and manipulation, we will experiment with the sense of tactility and the action of apprehending another body with the hand and with the whole body.We will work with passive/active roles and leading/following dynamics and look at the relation between a manipulated body and a manipulating one as a find of interaction.
David Hernandez - week 3 - Out of the Pocket
During this workshop we will explore spontaneous composition, or improvisation as a performance form. Our work will be centred around how to compose in the moment with others and make it readable and enjoyable for the viewer. It is not about jamming but rather about addressing how to propose and develop ideas in a performative improvisational format. In this interest we will explore both, scored and wide open improvisations with an emphasis on consequence and readability, and work to develop the tools and imagination necessary to accomplish this.
David Hernandez - week 4 - The Vocal Dancer
In this workshop we will dive into vocal as well as physical exploration and try to strike a balance between the two as well as investigate how they effect and inform one another. This work can take many forms but in general it is about getting comfortable using the voice while dancing. Participants don't need to be musicians or singers but people curious and interested to liberate the use of their voice while moving. We will take part of the workshop to open up the voice and get comfortable experimenting with it. Next to this we will learn and or develop physical material and work to include vocalisation as a part of the physical material. We may also approach a written musical score to use as a base for creating. Moving and speaking, manipulating breath, singing and other kinds of vocalisation that can become part of the moving will be explored and developed.
Dominique Duszynski – Acting Body, Dancing Body
During this workshop, we will look at different ways of proposing: with the body and with dance, in solo composition and group work. Just like taking a breath, the consciousness moves in waves, swings, gets lost, follows different ideas, be they joyful or intense, in a fluid dance, invisible, making you forget your restless body. Small round trips and short circuits are taking place. The limit between the 'acting body' and the 'dancing body' will be explored within different contexts, from in-depth to essential, from subtleties to concrete details, from casual to superficial. We will combine gestures and dance to instigate new ways of questioning our being. While investigating a range of possible presences, we will use musical supports to create contrasts and oppositions. During this workshop, we will develop material for a new creation.
Rosas repertory descriptions
Nadine Ganase - Elena's aria (1984)
This choreography is a very feminine piece danced with high heel shoes in a setting with nothing but some thirty or so chairs. The choreography is as fine and intricate as lacework, rich in contrasting dynamics (quick and light, slow and grounded), lyrical but with sharp punctuations, round and angular in its form. Dancing with chairs is a fantastic prop for developing movement and dynamics. The high heels will challenge your centre of gravity – great fun! Participants will be able to improvise on one section of the repertoire, using the same concept that was used during the creation. Although it is a piece created by women, men are welcome. They don't have to wear high heels, they also can if they want to. (Please bring medium height heels, pumps, tango/ flamenco shoes)
Fumiyo Ikeda - Achterland (1990)
Achterland is a seminal choreography in Anne Teresa De Keersmaeker's oeuvre. In this 1990 performance, for the first time, the choreographer gave the musicians a central position on stage and let them play an active role in the overall dynamic — an approach she would repeat in many subsequent projects. The unusual combination of György Ligeti's and Eugène Ysaÿe's music inspired De Keersmaeker and her dancers to create an original dance score with a delicate balance between energetic virtuosity and deceleration. This also was the choreographer's first time writing dancing material specifically for men; she added three male dancers to what until that point had been a predominantly female company. In Achterland, the prevalent femininity and minimalism of several of Rosas's earlier works gave way to an ambiguous no-man's-land characterized by a blurring of boundaries and symbols.
Nordine Benchorf - Die Grosse Füge (1992)
Die Grosse Fuge from Beethoven is part of Rosas repertory and the performance ERTS created in 1992 by Anne Teresa De Keersmaeker. In Die Grosse Fuge (1992), De Keersmaeker sets out to find a male vocabulary, with Rosas' dancers challenging gravity in a piece that sought to provide a physical translation of Beethoven's ingenious use of counterpoint. The choreography is based on the constellation of a quartet. Each dancer follows an instrument (first violin, second violin, alto and cello) with a precise analysis of the score, the variation, the development, transformation and transposition of two principal themes, jumping, running and moving the space and transposition of the "material" on the floor.
(For this workshop it's advised to bring kneepads!)
Clinton Stringer - Rain (2001)
Accompanied by the pulsating tones of Steve Reich's music, for an hour and ten minutes ten dancers occupy the stage, delineated by a curtain of fine strings, displaying an impressive succession of virtuoso dance phrases. The mathematical figures, the sustained repetition, the geometric occupation of the space, the art of continuous variation – everything that had gradually become the choreographer's signature was pushed to the extreme in Rain. In Rain, De Keersmaeker approaches the company of dancers as a close-knit group of pronounced individuals who, one by one, play a vital role in the whole. Seven women and three men allow themselves to be propelled by an unstoppable joined energy that binds them together. It's a bustling network in which breath and speed is shared as well as that special comradery that forms when you are beyond fatigue.
Alix Eynaudi - Drumming (1998)
Drumming is undoubtedly one of Anne Teresa De Keersmaeker's most fascinating choreographic works: a dazzling dance set to a powerful score for percussion by the American minimalist Steve Reich. In her choreography, Anne Teresa De Keersmaeker preserves the spirit of the score and at the same time enriches it: just as in the music, the complexity of the choreography arises out of a single phrase of movement to which endless variations in time and space are applied. It is only when the drums fall silent and the bodies come to a standstill that the spectator realizes what he has witnessed: a stunning journey, a wave of pure dance and pure sound, a vortex of life energy.
Project descriptions
Mette Ingvartsen - Moving in Concert (with things) the workshop
In this workshop Mette would like to open up the research of a coming performance "Moving in Concert (with things)" to a group of dancers. Her interest is to explore choreographic questions that reflect upon how humans live with or co-exist with non-humans, as well as with natural and technological materials. What currently preoccupies Mette, is how our bodies today (in certain parts of the world) are more and more defined by how we interact with technology. Yet the ways in which this interaction modifies our affects and sensations, our behavior and movements seem to remain strangely unknown."Moving in Concert (with things)" is a research project that tries to open an abstract field of questions around the role technology plays in the understanding we have of our bodies. How our interaction with technology is at once incredible concrete (use of smartphones and computers) and at the same time deeply abstract (in the sense that the complexity of technological operations remains close to impossible to map out).In the workshop we will be working with materials, natural and technological, and we will try to make a sketch of a future performance. We will follow where the questions and the materials lead us and simply see what comes out.
Vera Tussing - Both, Two and Many
The workshop will take the main themes of Both, Two - Vera's latest creation developed in close collaboration with Esse Vanderbruggen - as a starting point. Both, Two examines the duet, the smallest unit of togetherness. The dance duet is a genre with a history. In their most familiar forms, duets reflect the range of possibilities for relating, which resonate within a certain cultural imaginary. In particular, they reveal "common-sense" attitudes towards who gets to move, how, and under what conditions. When two people dance together, a whole constellation of invitations, permissions and prohibitions is put on display. For this workshop we will re-contextualize these ideas in a group setting.
Anton Lachky - Puzzle Work: Endless Body Game
This project is for every dancer who likes to be challenged, wants to learn, loves to move and is interested in discovering his/her physicality, ability and coordination skills. Puzzle work opens endless doors of varieties where one can learn different combinations within his/her own movement possibilities. By playing, organising and reorganising movement in many different ways, simple yet complex, it will allow the dancer to stay playful at all times. Our body functions as we wish, or rather as we allow it to function. Puzzle Work is a never ending process, never ending game but only if we allow it to be so. Each body has its balance, logic and limitations. Anton has been discovering his balance and his own limitations. More so, he is continuously asking himself the question, how to transform and apply these new found discoveries in his dancing. Let us use a bike lock as an image, if one takes six different numbers the combinations of the bikelock will be endless and will keep our bike from getting stolen. We can apply this metaphor to dance, with six different movements our body game can be endless, just like the bike lock. But we are not a bike lock and have many different other factors to take into account. These being speedframe, scale, texture, intention, context and most importantly feeling. Therefore, questions such as: "How large can the scale of our movements be?" and "Do we ever have access to the full potential of our own speed?" will be dealt with during this week. One thing to keep in mind, the answer will and can only be, YES!
Alix Eynaudi/Raimundas Malasauskas - Dunes and Something Raw
"We assume that all (names, roles,responsibilities) are interchangeable, but we are trying to figure out what it entails personally. We play with words, forms, relations. We are treating each other with CONFIDENCE, c u r i o s i t y and TRUST regardless of whether we are choreographers, refugees, artists or plan(e)ts. Touchingeachother, takingcareofeachother's past and future, transferring senses from bodies and senses into a conversation and back, and a c r o s s.We are asking each other many questions and no one is in a hurry to bring answers. it is a way to practice attention and fOcus. " "We love drawings from Josef Bachler from 1973, we copy them, dedicate a dance to them, draw them on our shirt, cherish them until they're part of our cavernous and raucous pool of possibilities, until they're part of us." We will simultaneously exercise different capacities and skills during our time spent together: our love of Art Brut paintings, our thinking in poetry, be it visual, concrete, somatic, our writing of dance, each of these activities receiving the same attention and care. Trough capture and release, holding and breathing, line breaks and clicks, it swings: whatever it may be at that moment.Dunes and something raw witnesses to an interest in artistic practices that challenge established cultural values: in art where the romantic notion of isolation from trends and mainstream artistry acts as a space for creativity and rest.Make way for imagination and civility!
Jan Martens - Moving Forward Standing Still
In this workshop project Jan Martens will work around stillness opposed to evolution. In a world dense with information we will question the purpose of development, the purpose of adding on to what is already there. This question will be translated into danced imagery. The outcome will be a sketch that will serve as the base of a new production planned for 2020. Repetition and slow transformation will be the main working tools, sharpening the precision and analytic skills of the participating dancers.