The programme is designed to give the dancer an introduction to contemporary dance. We advise all dancers who have little to no dance experience to follow this programme; this includes dancers below 18. The pace of the classes will be slower and therefore give the participant time to clearly understand and practice in depth the basic requirements of contemporary dance. There are two types of introductory programmes. A full-day programme and a morning programme. Unfortunately, the full day introductory package is sold out, so we decided to add a morning introductory package.

Introductory morning programme

The introductory morning programme offers a package, including a yoga class and contemporary technique class.

Introductory programme
The introductory programme offers a package, including a yoga class, contemporary technique class and Rosas repertory/workshop. Please note it is only possible to take part in this programme when you inscribe for the full package.
Unfortunately, this package is sold out.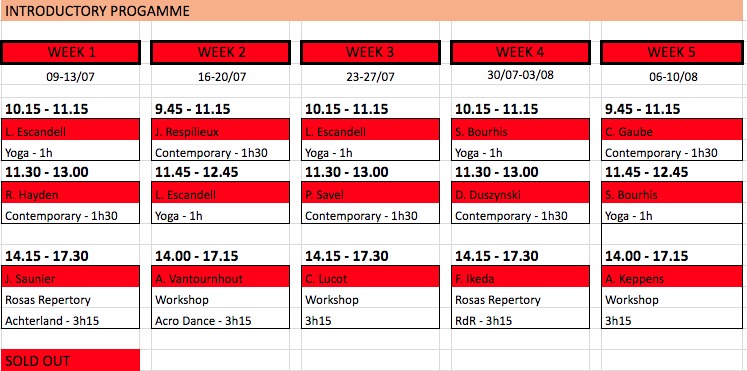 Yoga class descriptions
Laia Puig Escandell - Unfold and Unlock your personal potential
During this time we will be introduced to Yoga as a holistic practice. The five points of the holistic system are: proper exercise (Asana), proper breathing (Pranayama), proper relaxation (Savasan), proper diet (vegetarian), positive thinking and meditation (Vedanta and Dhyana), although we will mainly work on the first 2-3 points. This first class in the morning will be our moment to prepare for the day in a different way. To unfold and to unblock, first physiologically/anatomically and then into deeper levels of awareness. Identifying our unnecessary patterns and habits, letting go of them, balancing the body, increasing concentration and learning to listen. So that each individual student can be in tune with a deeper intelligence, expanding themselves as artists and humans, sharing it with the community as well as the world. I hope you all enjoy the process of unfolding yourselves. Om Namah Sivaya.
Stéphane Bourhis – Iyengar Yoga
In our Yoga practice following the Iyengar methodology, we will focus and explore precision, alignments, external and internal geometry of the body in several groups of yoga postures. The body is the starting point, the consciousness is the terminal point and the process between those two points is the reading of the body.
Contemporary class descriptions
Rob Hayden
The objective of this class is in developing a strong basis for physical interpretation through exercises designed to strengthen contemporary technique. Through floor work, partner- and contact work, participants will explore and confront their own dynamic performance vocabulary. The tasks proposed in each class will deal with various levels of physical, psychological, and emotional risk. These tasks will challenge our individual limitations and invite us to go beyond them, thereby enhancing our ability to communicate through movement. The overriding emphasis is on committing oneself to what can be called the 'total act'; a state wherein the performer completely embodies the action.
Jason Respilieux - Redefining Technique
We will give a new meaning to 'technique' asking ourselves questions such as: 'What is my body able to do?', 'How far can I go?' and 'Can I trust others and myself?'. The class is structured in a way to find an understanding and awareness of one's personal body and what surrounds us. Individually and together, we will go through task oriented exercises and improvisational guidelines to become aware of what one's body potential is. We will seize all opportunities that are present continuously in all of us. For I have the power to listen and act upon the essence of my thoughts, intuitions and surrounding.
Peter Savel – Letting Go
Peter Savel has been developing and evolving his classes since graduating from P.A.R.T.S, he sees this as an opportunity to go back to himself. Working more and more with non-dancers as well always being curious about the wider context of dance, he is not interested in dance techniques as such. He'd rather see movement and views dance as a mean to re-access his full potential. The questions he asks is simple "where do we stand in our own way and what makes us hold back?". By becoming aware of these patterns, believes, thoughts, fears or habits, Peter believes we can let go of them. Letting go refers to more than muscular tension and physical efficiency, though Peter uses these as the pragmatic and grounding elements in accessing the les graspable areas of thought, emotion and intuitions. In this class, he wants to come back to a space he believes we are all capable of reentering. This is a space of total creativity, which he believes is innate to all humans and can be used in any life situation and constellation. It is a state we all know and passed through during childhood. The simple difference between childhood and now is the awareness of a state and therefore the possibility to be in it consciously. More concrete, during the classes Peter works with methods, principles and exercises to go back to himself, through body and movement into the core of his body. In this process he strengthens his body and realigns it with his core. At the same time the experiences of accessing this space allows him to understand where he can expand, what he can let go and how, what he's always been capable of, but for some reasons didn't allow it to fully manifest. In other words, rather being busy with "doing right or well" it is " doing the best that you can right now and learning from the observation of this process. Peter is very busy with his personal learning process but uses many methods ( verbal and non-verbal) to share this with a whole group at the same time. Learning from each other strategy and methods, breaking the illusion of being alone or even isolating his particular experiences. Thanks to this he is able to create a safe environment. It is safe enough to allow someone to fail so he/she can expand into al directions of his/her own.
Cassiel Gaube - Body Origami
In this class, we will explore the relationship we entertain with the floor, as dancers and as pedestrian bodies. Departing from the question "How far am I from the floor" (Chrysa Parkinson), we will seek for the mechanics through which one can efficiently re-organise one's own structure in order to get closer or further away from the floor. To do so, we will study, practice and craft specific moves from the practices of Flying Low and B-Boying. We will look at the key-principles of these two techniques and combine moves from both of these fields into complex pathways, moving in and out of the earth, at an increasing speed. By analogy, Cassiel proposes to think of this work as a Bodily Origami Workshop. Literally, origami is the Japanese art of folding paper. We'll look at Flying Low and B-boying as techniques of folding bodies, according to increasingly sophisticated patterns, giving rise to very diverse ways to get closer and further away from the ground. The class will offer a frame for the participants to carefully look into the mechanics of the proposed movements, reverse engineer them and gradually gain the mastery to compose with them.
Workshop descriptions
Alexander Vantournhout - Katabatics-acrodance
The class starts with a focus on the mobility of the 6 extremities; neck, tailbone, feet and hands. These are often the first points of contact with the floor so we need to have a strong understanding of these, and there are many things to consider before doing, for example, further stretching of the hamstrings, arches and folds. We will start with improvisations and puzzles on all fours. We will then work on different falling strategies (Ukemi) and basic "katabatic" which have nothing to do with karate, but literally means "low(er)-(acro)batics". These include acrobatics such as cartwheels, stepovers, rainbows, mini rodeo's, around the clock wheels etc. These (rather new) elements are all about coordination, rather than virtuosity, strength or flexibility. Alexander will teach all the elements from the basics, how to do a cartwheel, arabian, macaco, etc. Then we will move on to details and finally progress to more advanced forms of katabtics and acrobatics.
Colas Lucot
The artistic collaboration with a choreographer asks dancers to have more abilities to compose and create. This workshop will put an emphasis on how to treat a material as a collaborator in a choreographic process. We will learn a movement material that will serve as a base to explore tools and methods that can help dancers to develop their own approach to movement and composition.
Anneleen Keppens - Composition and Improvisation
This workshop aims to nourish the development of your personal movement language through improvisation and composition. It is a space for creation, for expressing the multitude of you and for finding ways to share your personal expression in forms that communicate with a viewer. Guided improvisations based on visualizations, imagery and embodiment techniques allow us to trust our body as a rich source from which a variety of physical materials can manifest. These very personal experiences are then translated into set dance phrases. Each participant goes through the same process, but creates a unique collection of phrases. We then play with our phrases to uncover their full potential. What happens when they encounter other phrases? How can they become an experience for the viewer? How can the personal be shared with an audience? Through observation, communication, trial and error, we get to know our phrases better and better and find different ways of creating a dialogue between our dance and the viewer. We work in a fun, playful and respectful environment. The clear framework and guidelines of the workshop allow for a freedom to explore and experience the joy of creating.
Rosas repertory descriptions
Johanne Saunier - Achterland (1990)
Achterland is a seminal choreography in Anne Teresa De Keersmaeker's oeuvre. In this 1990 performance, for the first time, the choreographer gave the musicians a central position on stage and let them play an active role in the overall dynamic—an approach she would repeat in many subsequent projects. The unusual combination of György Ligeti's and Eugène Ysaÿe's music inspired De Keersmaeker and her dancers to create an original dance score with a delicate balance between energetic virtuosity and deceleration. This also was the choreographer's first time writing dancing material specifically for men; she added three male dancers to what until that point had been a predominantly female company. In Achterland, the prevalent femininity and minimalism of several of Rosas's earlier works gave way to an ambiguous no-man's-land characterized by a blurring of boundaries and symbols.
Fumiyo Ikeda - Rosas Danst Rosas (1983)
In 1983, Anne Teresa De Keersmaeker had her international breakthrough with Rosas danst Rosas, a performance that has since become a benchmark in the history of postmodern dance. Rosas danst Rosas builds on the minimalism initiated in Fase (1982): abstract movements constitute the basis of a layered choreographic structure in which repetition plays the lead role. The fierceness of these movements is countered by small everyday gestures. Four dancers dance themselves, again and again. The exhaustion and perseverance that come with it create an emotional tension that contrasts sharply with the rigorous structure of the choreography. In this workshop, wee shall look at each part of the choreography, learning the basic phrase as well as its structure in order to dance some extracts. A truly stimulating experience to great music!
(Please bring gym/ running shoes)