PARTS@WORK #1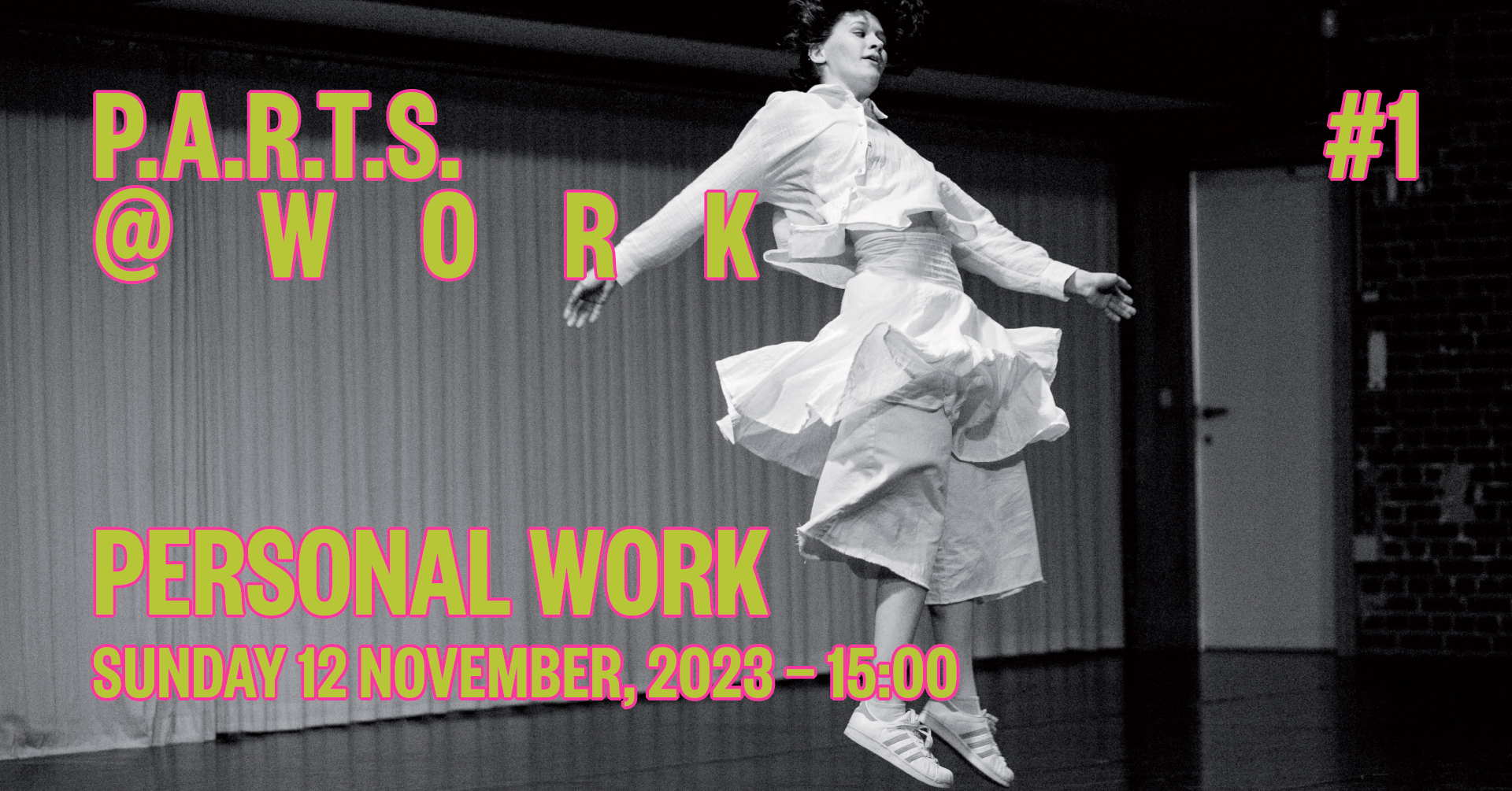 PARTS@WORK#1: Sunday November 12, 2023, 3pm:

Showing of personal work of the 2nd year Bachelor Training students

F R E E entry – everybody welcome - no reservation is needed
Doors open at 2:30pm - showing starts at 3 pm - end foreseen around 5:30pm (break included)
Location: PARTS - Avenue Van Volxem 164, 1190 Forest
PROGRAM (⧖2,5 hrs incl. 15' break)

Como hacer que respire un espacio / ⧖5'
Created and performed by Irene Rojo and Alba Díaz
Polymerous / ⧖20-25'
Airless.
They are encompassed as if they are one, despite their individual nature. In this uncomfortable reality their function, their whole reaches out to that what keeps them inside. Their struggle of sticking together in a protected cocoon turns out into a new being. And the illusion will keep reaching them, once they're out of this polymerous relation. But what do you see when you are outside? Something is still being kept out of view.
Credits:
Performed by Letcia Oliveira Ferreira, Anna Fedoronchuk, Salim Mabrouk, Mashiro Tamura, Samuele Baschieri, Patric da Cunha, Solene Alonado.
Created by Letícia Oliveira Ferreira, Anna Fedoronchuk, Salim Mabrouk.
Musicians: Filippo Gilone, Maris Paiuste
Music: Barbara Strozzi, 'Che si puo fare' (voice, guitar)
Coach: Femke Gyselinck
Are we allowed to / ⧖25-30'
She hit the floor (she hit the floor)
Next thing you know
This is our last dance
The whole club was lookin' at her
Under pressure
Beating up the wrong guy
Under pressure
Oh man, wonder if (s)he'll ever know
She turned around and gave that big booty a slap (hey)
Oh man, look at those cavemen go
Now watch me whip (kill it)
Ooh, watch me, watch me (yeah)
Ooh, watch me, watch me (yeah)
Ooh, watch me, watch me (yeah)
Ooh, watch me, watch me (yeah)
Credits:
Created and performed by Alice Bröker, India Pornon and Rünno Tammela.
Music: Under Pressure - Anne Lennox, David Bowie and Queen, Life on Mars - David Bowie, Low - Flo Rida, Watch Me (Whip/Nae Nae) - Silentó.

I think I'm fluent / ⧖15'
Moving the body in and out of imaginary and existing languages, through repetition and stream of consciousness. The making of this solo circled around 3 scores by Meg Stuart: Transformation, Garbage Talking and Moving Nonsense. Equally, I thank the sims and my childhood drama classes for this kanijastum wuuubaela djastin ritjsja.
Credits:
Created and performed by Saga Ivéus Wenglert.
Scores by Meg Stuart in the book 'Are we here yet?'

///stop I'm blushing/// / ⧖20'
Credits:
Created & performed by Mashiro Tamura.
Music: "Touch" Yoshimi Iwasaki, "Readymade Song" "How to destroy a girl" URBANGARDE, "N.E.O." CHAI, "Open Secret" Sheena Ringo

Improvisation based on Drumming material / ⧖20'
Improvisation work inspired by a session with Seke Chimutengwende and Jonathan Burrows.
Credits:
Performed by GXIV students.
Material: "Drumming" 1998, Anne Teresa De Keersmaeker.