Estefanía Álvarez Ramírez / WORK. WOOD. GOOD.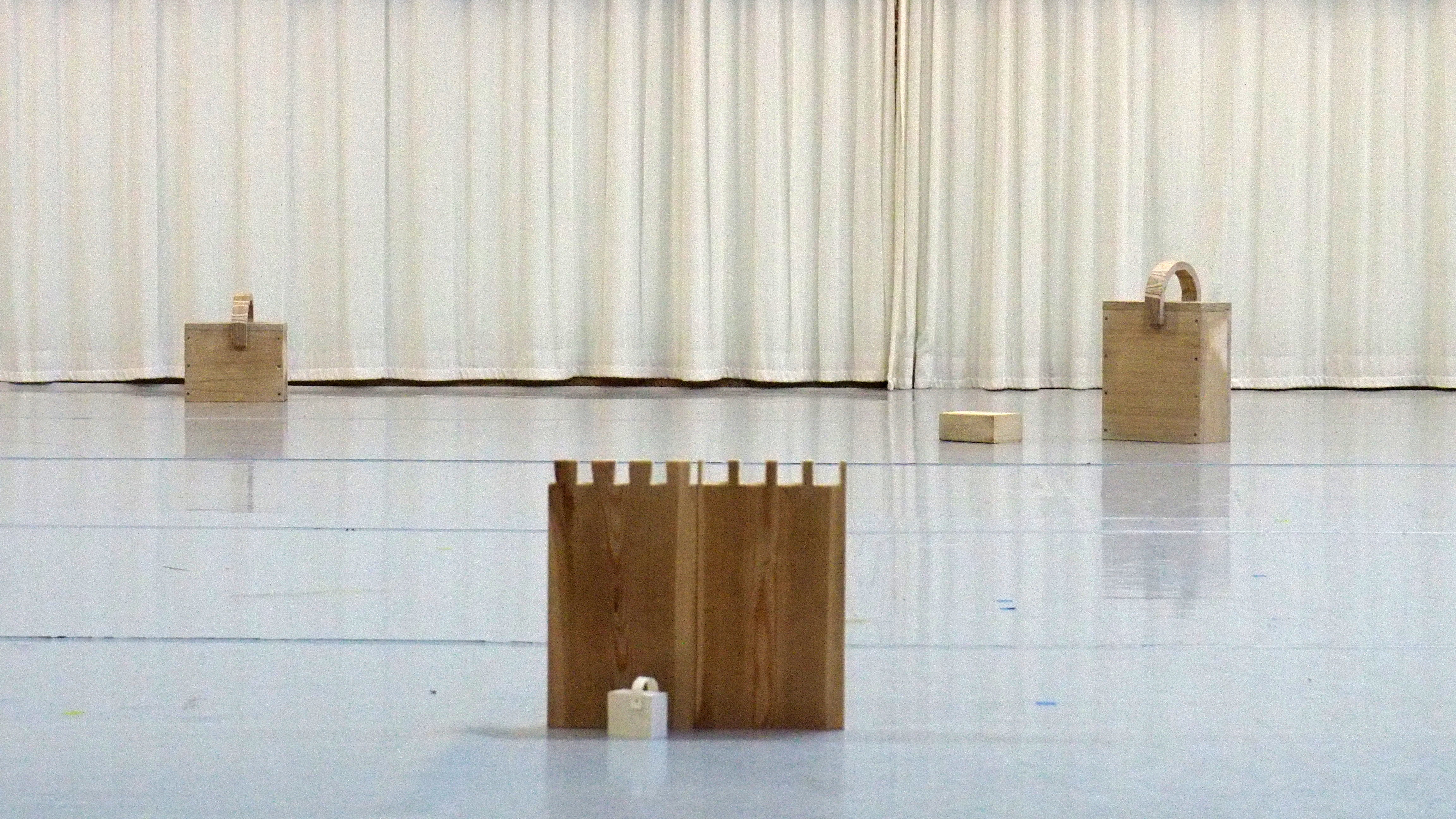 WORK. WOOD. GOOD.
Anyway, finishing is never finished.
WORK. WOOD. GOOD. is a response to Estefanía's necessity to create a context in which her different creative practices intertwine. Where making and crafting are at the heart of the process. What does it mean to make something with your own hands? Between the roles of craftsperson, maker, designer and inconstant being she seeks for a place among her built and unbuilt constructions, her endless dealing with inhabiting and becoming.

Supporting the broken yet remaining unbreakable.
Tormented sculpture in scale and perspective.
Becoming is a desire.
Uprooting. Relocating. Inhabiting.
Care in the construction, then grieve. Deformation.
Traces of pain and disillusion. Delusion.
A ground for nostalgia. Perform the transformed.
Credits
Concept and performance: Estefanía Álvarez Ramírez
Mentor: Béatrice Balcou
Documentation: Piero Ramella
Costume design: Christina Seewald
Residency support: De School van Gaasbeek, Tournevie.
Special thanks to: Calvin Carrier, Luis Ramírez Muñoz, Luisa Fernanda Alfonso, Stanley Ollivier, Chloe Chignell

Estefanía Álvarez Ramírez was born in 1993 in Medellín, Colombia and has been dancing since 2003. In 2010 she started studying Architecture and Arts at the Universidad Nacional de Colombia. In 2019 she graduated from the B.A in Dance at the Folkwang Universität der Künste in Essen, Germany. She joined the STUDIOS program in 2019. Her interests revolve around the exploration of roles: maker, space and material; to sculpt and create the space that can host all her (and others) practices and desires. A deep admiration for vegetation, soil and landscape and the idea of its reproduction, embodiment and camouflage. About the frustrated dream of being a Rockstar, a performative practice designed to allow every eccentricity, to impersonate music, movement and bad singing: she pretends she is a Rockstar, especially David Bowie. And last, but not least, writing: Estefanía has been writing short stories in Spanish since she was young, now her writing is based on diary entries and the potential becoming of this accumulation of thoughts into Auto Fictions.
Estefanía lives and works in Brussels.
Website Estefanía Álvarez Ramírez
Instagram Estefanía Álvarez Ramírez


Saturday June 12, 2021 / 15h / ⧖ 2h incl. break
WORK. WOOD. GOOD. is part of a double bill, you always buy a ticket for 2 performances
Location first part of the program (15h): Rosas Performance Space - Avenue Van Volxemlaan 164, 1190 Brussels
Location second part of the program (continuously between 16h-18h30): Wild Gallery - Gerijstraat 11 Rue du Charroi , 1190 Brussels
It is a 10 minutes walk between the 2 venues
For tickets (7€) click here
Practical info here
Sunday June 13, 2021 / 20h / ⧖ 2h incl. break
WORK. WOOD. GOOD. is part of a double bill, you always buy a ticket for 2 performances
Location: Rosas Performance Space - Avenue Van Volxemlaan 164, 1190 Brussels
For tickets (7€) click here
Practical info here



All pictures by Anne Van Aerschot