The auditions for the Training cycle 2019-2022 are finished.
The next Training cycle will run between 2022 and 2025.
Auditions for this cycle will be held between January and April 2022. More information will be published in the Autumn of 2021.

THE AUDITIONS FOR THE TRAINING CYCLE 2019-2022 ARE CLOSED.
On this page you can find info related to the previous auditions for the Training Cycle 2019-2022.

WELCOME
Welcome to our information page concerning the audition for our upcoming Training program 2019-2022. P.A.R.T.S. only opens up its Training program every three years to students between the ages of 18 and 23. The new Training program will begin its three-year course in September 2019 for which auditions are organised during the spring of 2019.

AUDITION PROCESS
The audition is divided in two steps:
1) You must register online for a pre-selection which will take place in various cities across Europe and beyond between January and March.

2) Only candidates who have passed the pre-selection will receive an official invitation with a detailed explanation of the final audition. The final audition process takes place in Brussels between April 9 until April 14. The entire full-week participation in this final stage of the audition is necessary to be selected for the Training, so block the dates now!

Please Note
Before choosing a pre-selection date and city, please note that certain conditions must be met in order to enroll as a student at P.A.R.T.S.:
- candidates must have a high school diploma before September 1, 2019
- the minimum and maximum age requirements are 18 and 23 years old before December 31, 2019
- a minimum level of English proficiency is required (B2 or higher in CEFR scales); this is essential for being an active participant in the program.
PRE-SELECTION DATES AND LOCATIONS
The deadline for registrations is at 9AM (Central European Time) on the Monday before your desired pre-selection date will take place. We recommend you not to wait to register, as we close the registrations for a pre-selection venue as soon as it reached its maximum capacity. If this is the case for your preferred preselection location, you can contact us at auditions@parts.be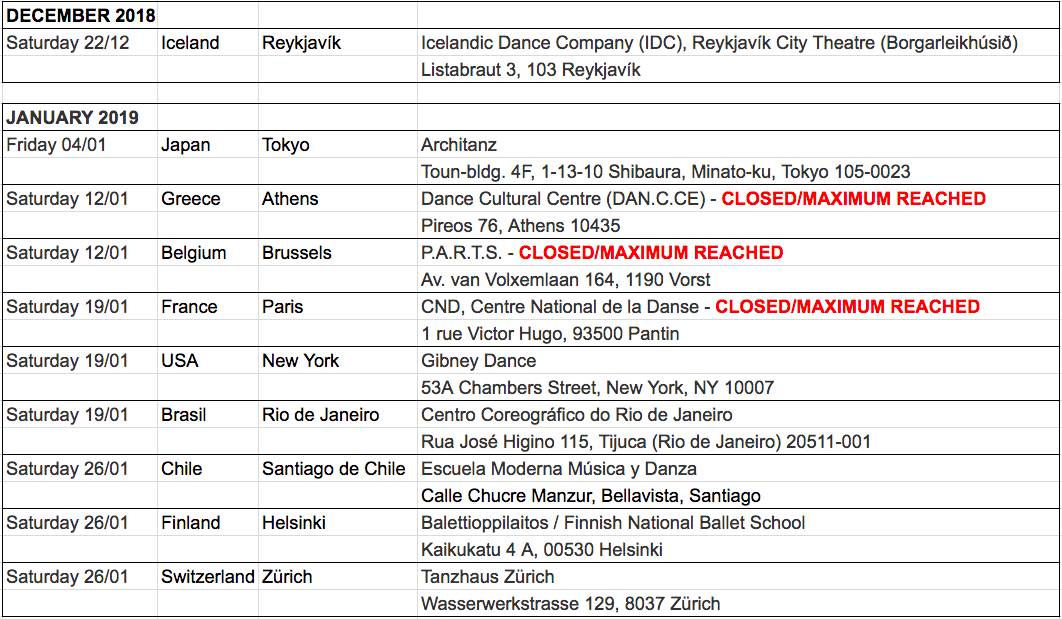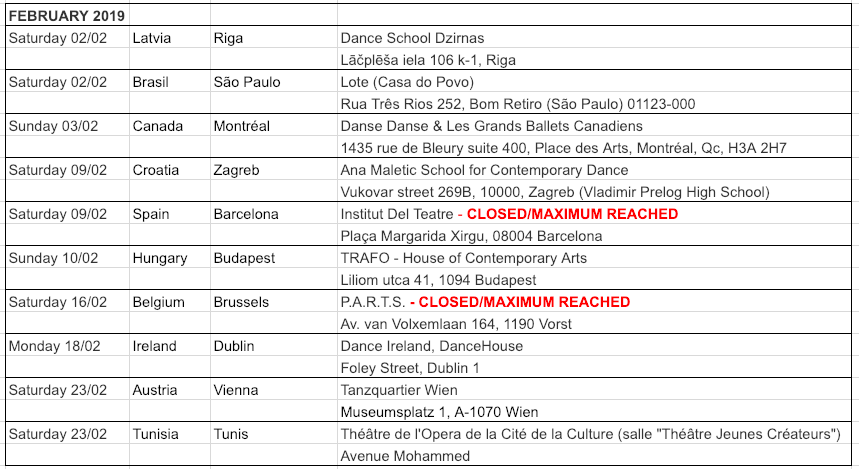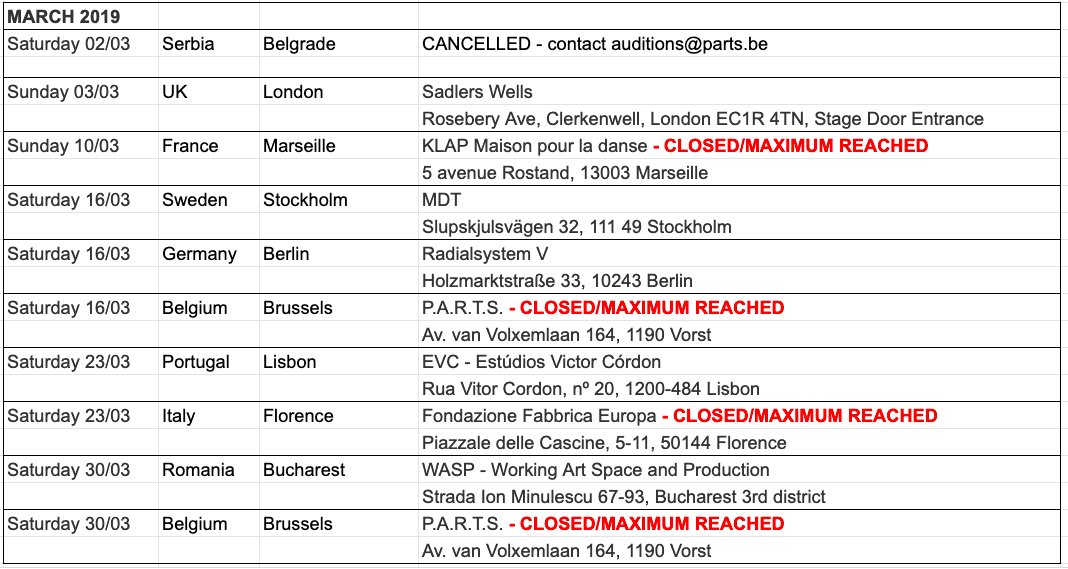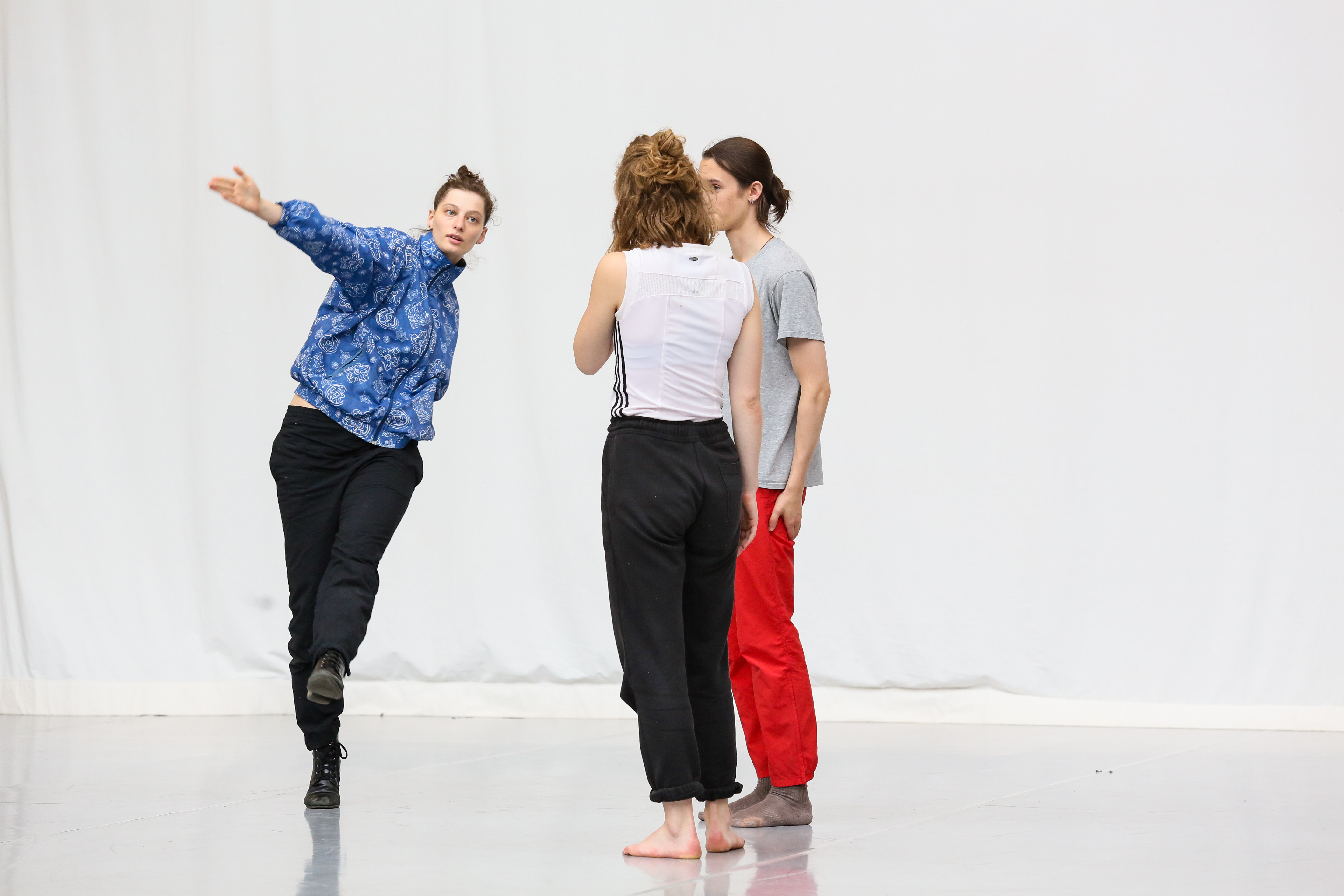 PRE-SELECTION REGISTRATION
You have to register for one, and only one, pre-selection date and location through the following on-line registration form (click to open). Registration ends on Monday at 9AM local time (Central European Time) before the pre-selection you want to attend. You will be asked to pay the registration fee on-line at the end of the registration form to complete the procedure.
Frequently Asked Questions
A more in detail overview of the entire audition procedure and entry criteria is available in our FAQ document, which you can find here. For more information on our Training program, please check our webpage on the Training program. If you feel you can't find an appropriate answer to your question, please feel free to send an e-mail to Ingrid Maes, student administrator, at auditions@parts.be.
We hope to see many of you on one of our pre-selection dates!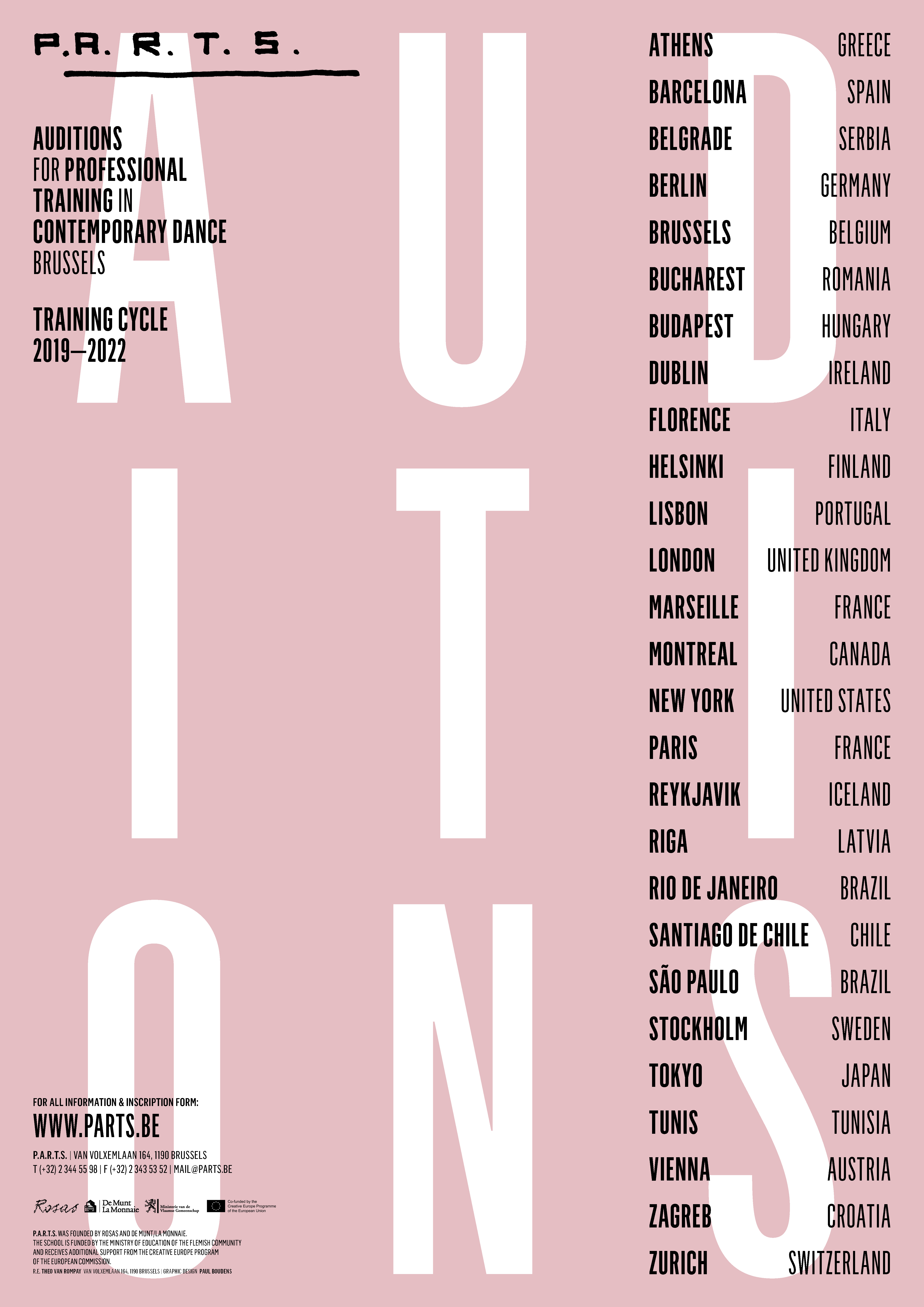 Additional Information

P.A.R.T.S. opens its doors on several occasions for prospective students to take a look. Our next open days will be:

Open Fridays
P.A.R.T.S. opens its doors to the young aspiring dancers and choreographers who are considering participating in the auditions for the Training program of 2019-2022. The Open Fridays will serve as a chance to take a look at our school and gain insight into the daily work at P.A.R.T.S.

The Open Fridays will take place on selected Fridays in October, November, February and March during which we can only allow 5 people per session. If you are interested in participating or would like to have some more information, please click on the following link "Open Fridays".

PARTS@WORK
Students always have the opportunity to showcase their work. The PARTS@WORKS showings are dedicated to giving them a platform. For more information regarding future PARTS@WORK shows, please click here.