18:00- PROGRAMME 1
Short works with Ivana Müller
Led by: Ivana Müller
With: Audrey Mérilus, Jean-Baptiste Portier, Keren Kraizer, Maureen Bator, Stanley Ollivier, Synne Elve Enoksen, Thomas Higginson

In the 2nd and 3rd years at P.A.R.T.S. some of our students chose to participate in workshops with Ivana Müller. During these weeks, Ivana and the students collaborated to make short format works, develop scores and make sketches of ideas to become. The main focus was the concept of 'time'- duration, slow motion, memory, waiting. We will be reviving and presenting five of these short works.
Vortex Temporum- 3rd Movement
Choreography: Anne Teresa De Keersmaeker/Rosas
Rehearsal director: Marie Goudot, with assistance by Julien Monty, Michael Pomero, Boštjan Antončič, Carlos Garbin and Samantha Van Wissen
Music: Gérard Grisey, Vortex Temporum
Danced by: Alban Ovanessian, Cintia Sebók, Fouad Nafili, Gustavo Gláuber, Papis Faye, Robson Ledesma, Thomas Higginson, Timothy Nouzak, Vasco Pedro Mirine

In Vortex Temporum (2013), Anne Teresa De Keersmaeker takes on the polyphony in Gérard Grisey's eponymous masterpiece with a danced counterpoint for seven dancers. Probing the question: 'how can you visualise polyphony by dancing it?'. De Keersmaeker decided to stage an intricate intertwining of sound and movement. Each dancer is linked to one of the seven instruments, and colours his or her dancing with patterns of movement proper to the instrument. Dancers travel the stage following a pattern – a vortex – of swirling circles. As De Keersmaeker observes: 'Time can be thought of as both linear and cyclical. That which we call 'now' is, in fact, a permanent tipping point; a balancing act between memory and anticipation, leaning back and forth between the ghost image of the past and a desire towards the future.'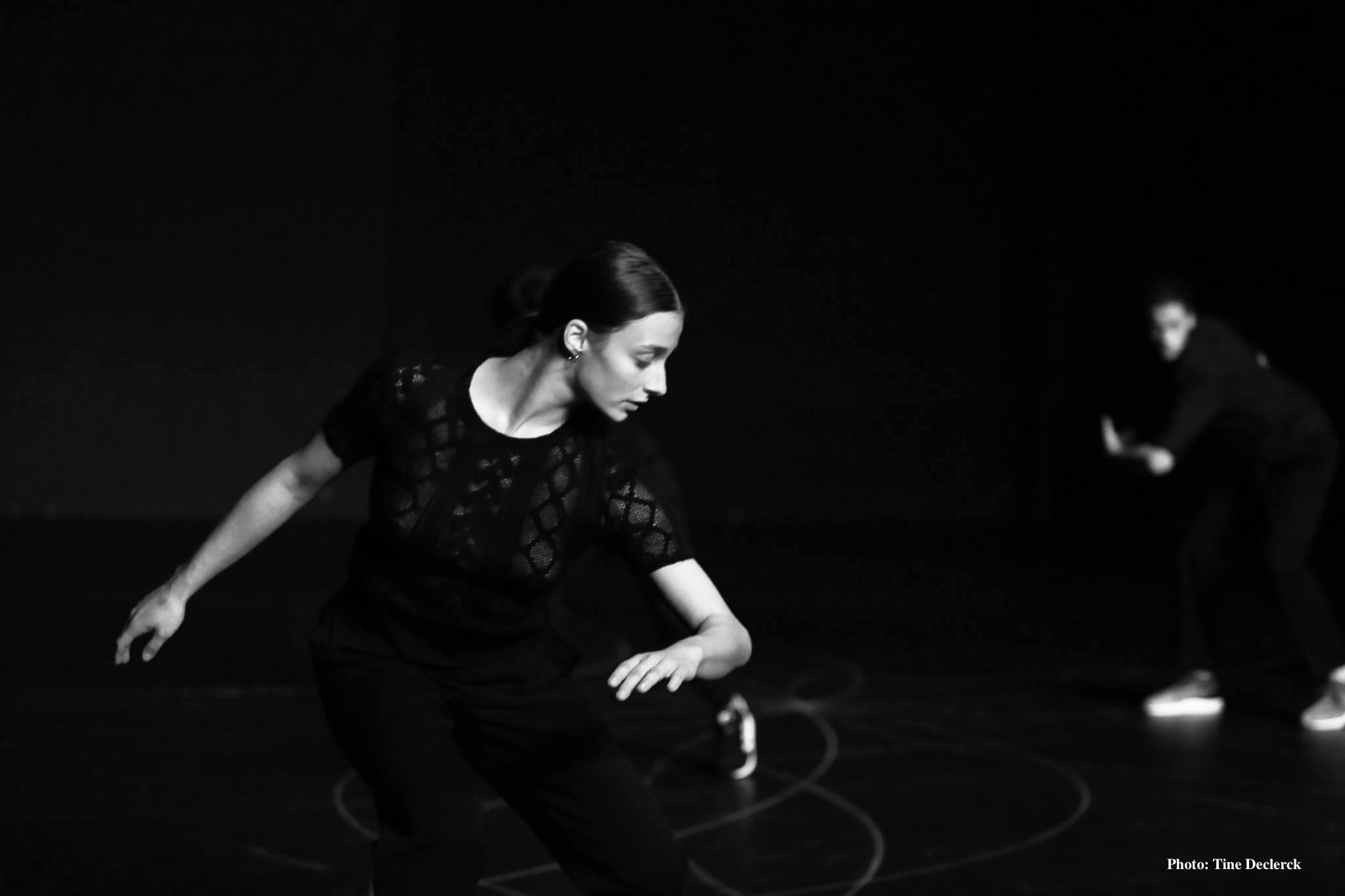 IN THE BREAK
Mobile
Installation concept and creation: Keren Kraizer

Please turn on the flashlight on your mobile phone
Use this to explore and expose the hanging mobiles in the room
Keep the people, space and thoughts mobile in your own way
This is the opening on the installation. It will remain open for the rest of the festival.
20:45- PROGRAMME 2
A lecture which
By: Fouad Nafili, Lydia McGlinchey, Némo Flouret

Developed from their trio Yes Master, Fouad, Lydia and Nemo have been working on subjects such as formatting, lecturing and the intersection of the transmission of knowledge and performance. After 7 months of working together, the trio decided to transpose the essence of their work into the sphere of performative art. They tried to materialise a will to share knowledge through an official LECTURE format. The institution as a laboratory for format. Format as a laboratory for performances of action. Looking for lucidity and freshness. How to understand knowledge in ways other than what is offered to us today, what are the alternatives, what are other forms of transmission, what could be considered transmission. Where are the boundaries between lecturing and art.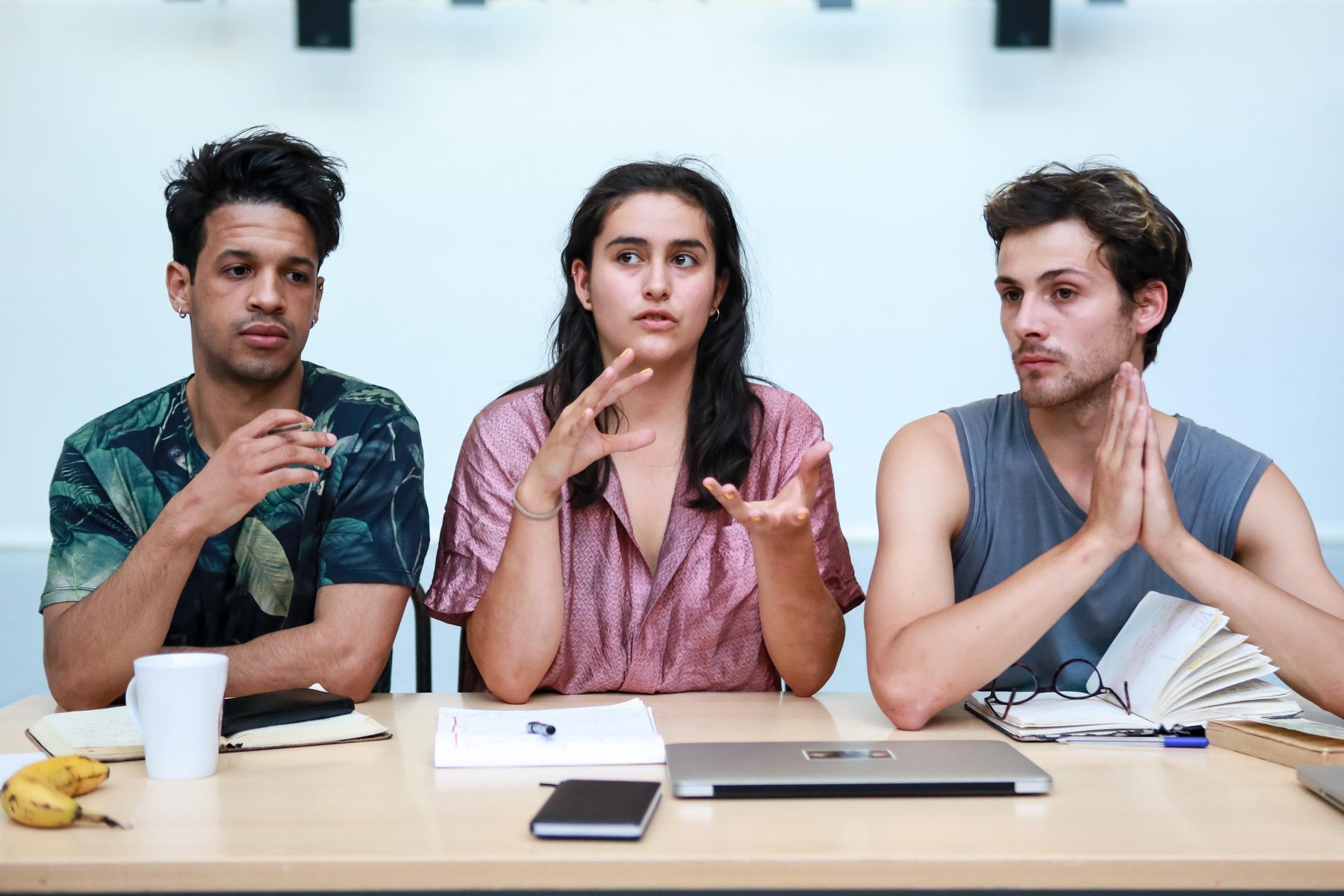 8 Femmes
Project led by: Jonas Gineika
Created with and performed by: Cheyenne Illegems, Margarida Marques Ramalhete, Huang Mei-Ning and Judith Van Oeckel

Four graduating students from P.A.R.T.S. - Cheyenne, Margarida, Mei-ning and Judith - tell us a one night story of four fictional women - Alice, Briana, Helen and Charlotte. Somewhat absurd, somewhat trying-hard-to-make-sense result of a 7 week process of exploration of physical theatre.

Musical credits: Oleg Karavaichuk "Waltz of Noble Prize Laureates", G.F.Handel "Lascia ch'io pianga" by Philippe Jarousky, Françoise Hardy "Message personnel", F.Liszt "Hungarian Rhapsody no. 2" by Valentina Lisitsa