18:00- PROGRAMME 1

Tickets

PERSONAL WORK (from inside the curriculum)
Piece #1
Choreographed by: Luis Miguel Ramirez Muñoz
In collaboration with: Vasco Pedro Mirine, Maureen Bator, Lee Hyeon Seok, Mamadou Wague
Performed by: Maureen Bator, Lee Hyeon Seok, Vasco Pedro Mirine, Luis Miguel Ramirez Muñoz, Mamadou Wague

The meaning of the title is self referential. The work is dealing with the subject of free will, questioning to what degree do we give it for granted, and how, in an everyday more industrialised and globalised world, the value given to a routine as a means to the accomplishment of either social status or economic satisfaction is of such magnitude that drags us into believing that within that routine is where free will lies, and that the individual potential for development should fall under the efficiency of the social machinery... But free will must prevail and the box should expand.Besides this, the work its also in a big sense about the exploration and exploitation of some of my compositional ideas as a mean of expression.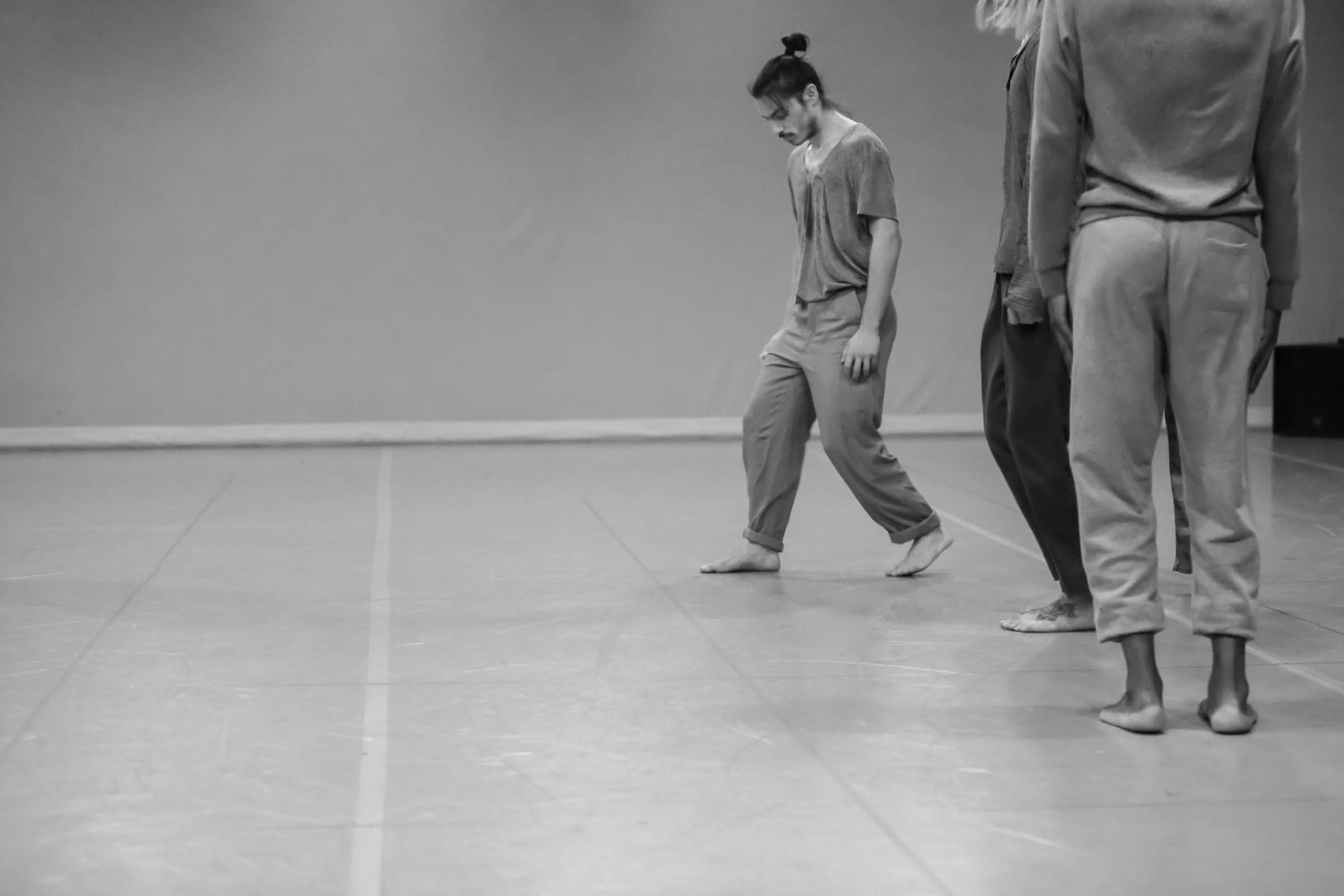 Photo: Tine Declerck

PERSONAL WORK (from inside the curriculum)
/bɪˈtwiːn/
Performed and choreographed by: Mariana Miranda and Wai Lok Chan
/bɪˈtwiːn/ is a live dialogue, revealing the distance in communication. It is a game formed by at least two people or you can play inside yourself. The role of audience and performer interweaves in the fragmented communication, an autopoietic process, which reproduces itself. Understanding is not necessary for its fabrication. If there is no clarification, is communication effective?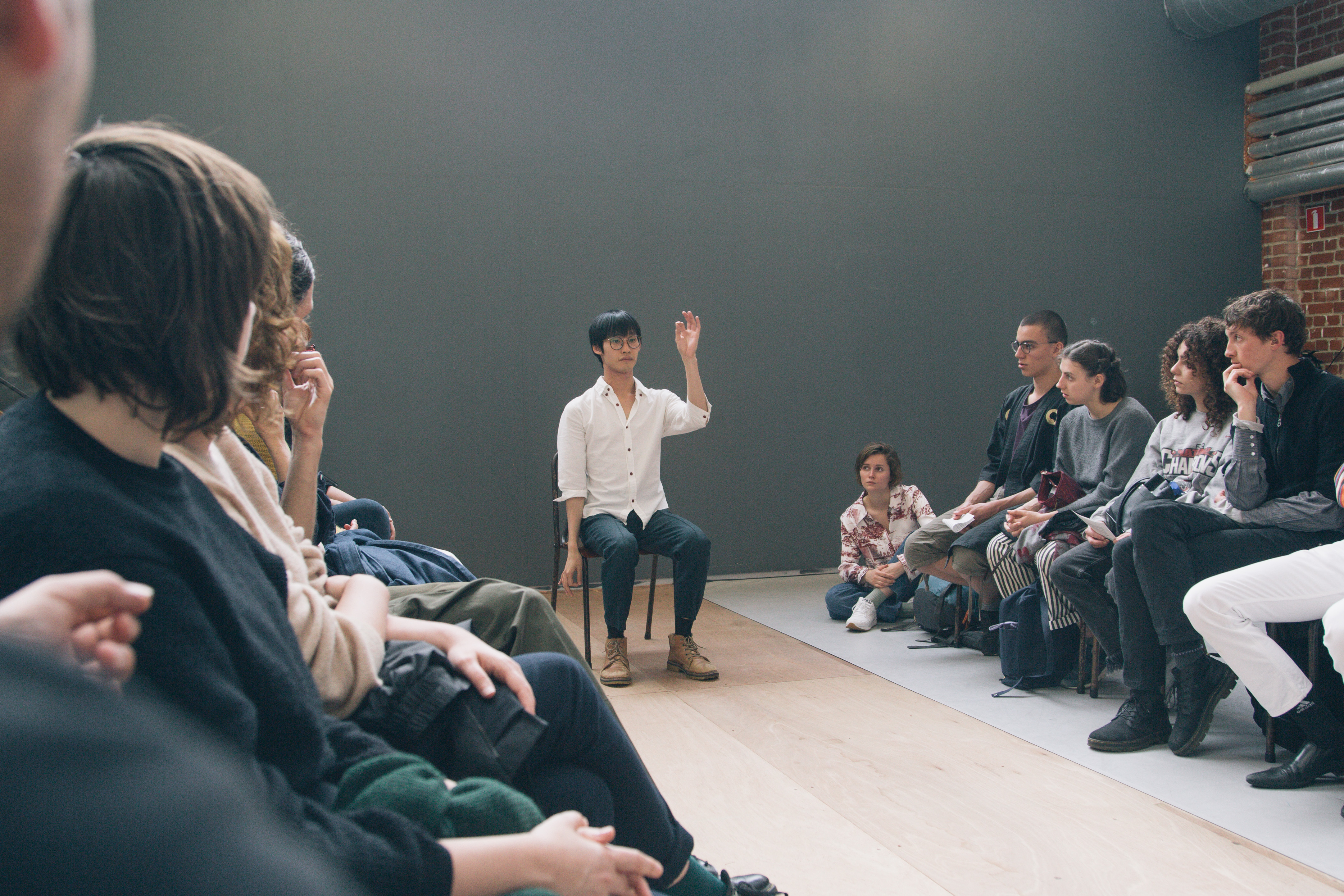 PERSONAL WORK (from outside the curriculum)
NO IMAGE
Concept: Keren Kraizer
In collaboration with: Eimi Leggett, Fouad Nafili
Multi-disciplinary performance.
We invite you to participate in faking reality with us and in questioning how far it is from the one we share today. An individual perception of reality is flexible and is sensitive to what it sees.Images and films, which claim to be objective, are not. The very making of these documents are hold interest and have agendas. For, to show one thing over another is to already edit.This work aims to enter into a dialogue with two major themes:
- The influence of image and film on how we understand reality.
- How we present ourselves through image and film to construct how we are perceived.Confront your one reality and explore the line between documentation and manipulation

NOTHING IS DOCUMENTED
EVERYTHING IS MANIPULATED
YOU NEED TO COME AND SEE
20:45- PROGRAMME 2
SOLD OUT
PERSONAL WORK (from outside the curriculum)
Sorry not Sorry
Choreographed and performed by: Cintia Sebók and Stanley Ollivier
Using as a standard the naked body, in order to explore, What a body can do in itself.
Sorry not Sorry is raising questions about what we can do instead of what we have to do, by taking a first step out of our comfort zone and ideology of how the body is expected to be seen.
What can a body do?
A body can, be
A body can, warm up
A body can, sit
A body can, lay
A body can, stand
A body can, be upside down
A body can, jump 100 times
A body can, vibrate, shake, pulse
A body can, transform
A body can, become perfect through imperfection
A body can, respond to question
A body can, talk
A body can, time travel
A body can, space travel
A body can, fall
A body can, have momentum
A body can, manipulate sound
A body can, articulate
A body can, be excited
A body can, surprise
A body can, sweat
A body can, be in pain
A body can, make art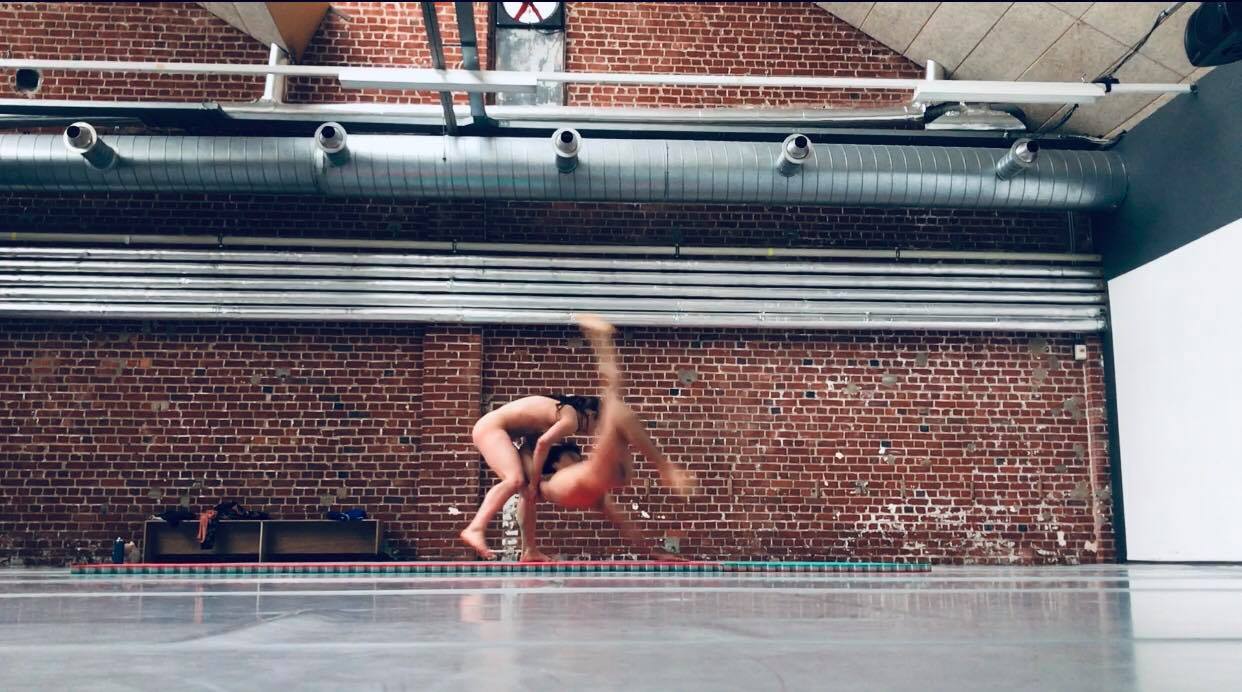 REPERTOIRE
Drumming/fragments
Choreography: Anne Teresa De Keersmaeker
Music: Steve Reich, Drumming
Project directors: Ursula Robb, Taka Shamoto, Marta Coronado, Clinton Stringer
Rehearsal director: Ursula Robb, Taka Shamoto

During a period of six weeks, the students worked in three groups on Anne Teresa De Keersmaeker's Drumming (1998). They learned different sections of the choreography and built their own material on the basic phrases and choreographic structures of the original. Ursula Robb, Taka Shamoto and Clinton Stringer, three former Rosas dancers, guided the students during these classes. Each group approached a different aspect of Drumming, but Steve Reich's rhythmical patterns remain the framework for an explosion of dance pleasure and complex structures.

Drumming has been a part of our time as GXII since the very beginning. We first learnt it in our audition, then in the December of our first year, then we revived it at the beginning of our third year to perform at CND in Paris as part of Festival d'Automne. For our graduation we liked the idea of finding a way to perform it all together in one big group of 44 dancers instead of three split groups. Our adaptation of Drumming for the GXII Festival builds on the energy and intensity of this piece and the intricate geometric and rhythmical patterns that it is based on. In a heightened and enlarged way we share Drumming together as one big group for the last (and first) time.
Also see Drumming/fragments on Saturday 13th.