WINTER WORKSHOPS
P.A.R.T.S. organizes a number of activities to get familiar with the school and the program.
Are you a young aspiring dancer/choreographer considering participating in the auditions for the Training program of 2022-2025?
During the winter of 2021-2022, you can participate in three long weekends of workshops with contemporary dance classes, composition, ballet, theory etc.

For the WINTER WORKSHOPS we accept the same age limit as for participants of the Training Cycle auditions: you have to be at least 18 and maximum 23 years old (both ages on Dec 31, 2022).
The participants are not observed and there is no feedback available regarding the participants' chances of succeeding in the auditions.
DATES AND FEES
Sat-Sun October 30-31, 2021 - Fee €55 - Max. 25 participants
Wed-Fri January 5-7, 2022 - Fee €75 - Max. 65 participants
Sat-Sun February 26-27, 2022 - Fee €55 - Max. 25 participants

REGISTRATION
You have to register through an online registration form.
We can only confirm your reservation after we have received the fee for the workshop. Cancellations can not be reimbursed.
You will need a Covid Safe Ticket (CST) or EU Digital covid certificat for the Winter workshops.

For the Winter Workshop of Sat-Sun October 30-31, 2021:
this workshop has already taken place.

For the Winter Workshop of Wed-Fri January 5-7, 2022:
this workshop has already taken place.
For the Winter Workshop of Sat-Sun February 26-27, 2022:
REGISTER HERE
Update on january 5th, 2022 :
This Winter Workshop is complete. If you want to be registered on the waiting list please send a mail to our team at auditions@parts.be.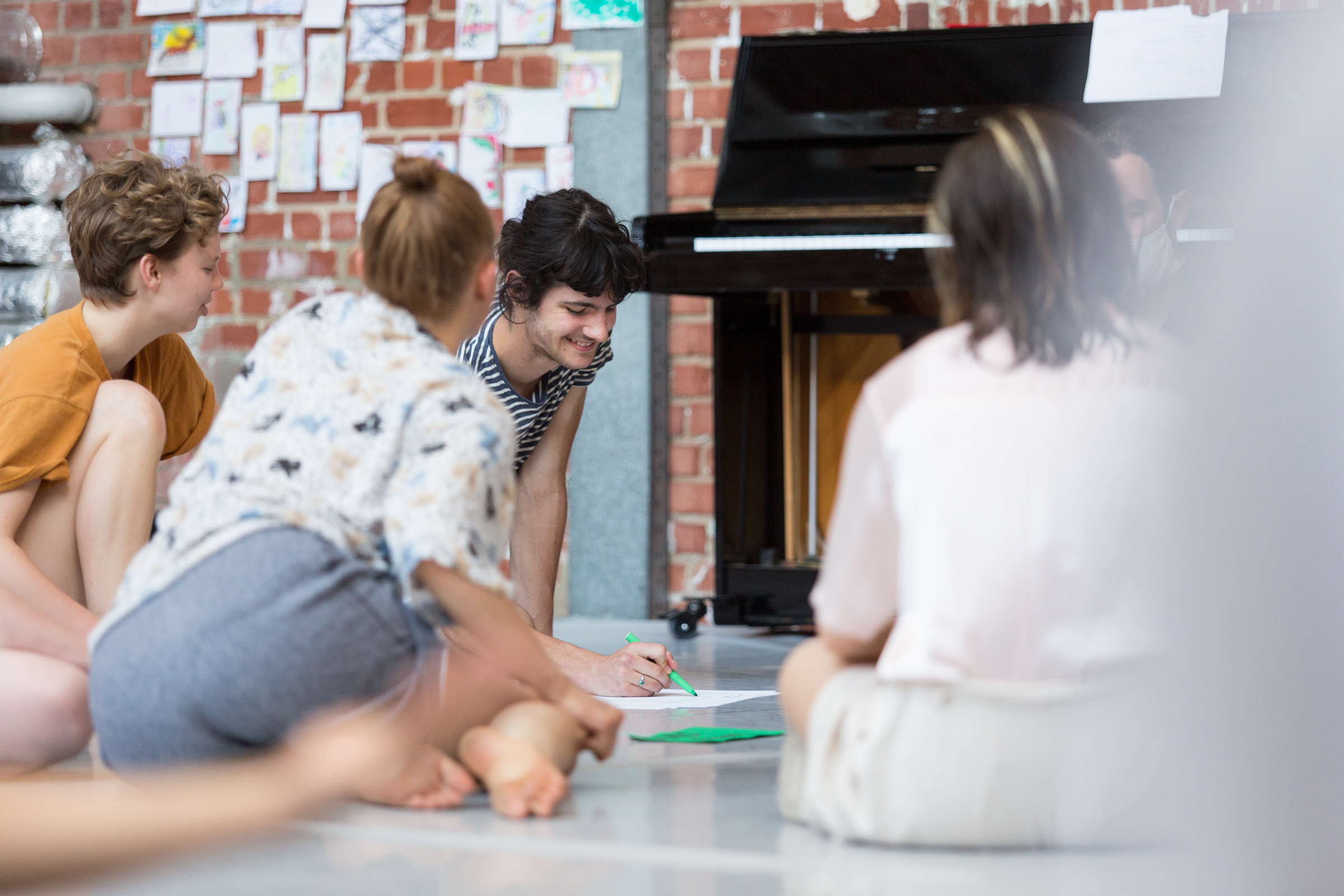 CLASS DESCRIPTIONS WED-FRI JANUARY 5-7, 2022:

Contemporary with Jason Respilieux (bio):
We will give a new meaning to technique by asking ourselves what is my body able to do? How far can I go? What is already available to me? The class is made so to have an understanding and awareness of one's personal body and what or whom surrounds us. Through our senses, individually and together, we apprehend task oriented exercises and improvisational guidelines. The practice aims for one to become aware or rediscover what one's body potential is. Hence seize any opportunities which are present continuously in all of us. It aims to allow oneself to listen and act upon the essence of one's thoughts, intuitions and surrounding.
Ballet class with Libby Farr (bio):
The ballet class evaluates and re-evaluates the dancer's body and is built on the classical structure of a ballet class with the objective to focus on strengthening the dancer's awareness of his or her own natural alignment and experience. The class is divided into two parts: the barre and the center practice. Exercises at the barre emphasize isolating and releasing the joints in order to strengthen the dancer's core awareness and to find where the movement begins in the body. By supporting the functional body placement, it becomes more natural and fluid, rather than stiff and held, allowing the movement to be less stressful. The second half of the ballet class, conducted in the center, continually challenges the dancer to use the newfound placement when having to shift weight and carry the body through space. Motivation, flow of movement, and momentum are key points to help the dancer to move from the core and inner muscles supporting a greater freedom of dynamic and expression. The dancer gains a stronger sense of confidence to take space and go beyond technique.

Improvisation workshop David Hernandez (bio)
During this workshop we will explore spontaneous composition, or improvisation as a performance form. Our work will be centered around how to compose in the moment with others and make it readable and enjoyable for the viewer. It is not about jamming but rather about addressing how to propose and develop ideas in a performative improvisational format. In this interest we will explore both, scored and wide open improvisations with an emphasis on consequence and readability, and work to develop the tools and imagination necessary to accomplish this.
Theory class with Tessa Hall (bio)
This session gives an example of what a theory class in PARTS can be. No specific preparation required!
The class will be split into three parts. First, a basic introduction of feminist theory with particular focus on breaking down terminology. Next, we will look at the work of Gerda Lerner, a pioneer in the field of women's his(her)story. From here, we will meet other female figures who have subverted their respective fields, from writers to visual artists.
Yoga class with Stéphane Bourhis (bio):
The teaching of Yoga following the BKS Iyengar methodology is based in depth practice of yoga postures and pranayama (art of breathing), with rigour, intensity and precision of the body alignments. During the class we gradually explore the outer and the inner geometry of the body in different groups of postures and movements.
Rosas Repertoire workshop with Fumiyo Ikeda (bio):
Drumming (1998) is one of the most fascinating choreographies that Anne Teresa De Keersmaeker/Rosas created. We will work on the seven basic materials of Drumming and with this material you will make a personal transformation and composition in the same way as we did with the company. We will also try to make something new with your own material.


PROGRAM

1. Sat-Sun October 30-31, 2021 - Fee €55 - Max. 25 participants
Saturday 30/10, from 10h30 until 18h:
contemporary technique class with Youness Khoukhou, ballet class with Lise Vachon, composition workshop with Marie Goudot and Michael Pomero, and a Q&A session about PARTS and the audition process with tutor Lise Vachon and coordinator Steven De Belder.
Sunday 31/10 from 9.00 to 15.30:
yoga class with Laia Puig Escandell, contemporary technique class with David Hernandez, workshop composition with Marie goudot and Michael Pomero.

2. Wed-Fri January 5-7, 2022 - Fee €75 - Max. 65 participants
Wednesday 5/1: from 9.30 until 17h:
ballet class with Libby Farr, contemporary class with Jason Respilieux, Rosas repertoire workshop with Fumiyo Ikeda and Sue-Yeon Youn
Thursday 6/1: from 9.30 until 17h:
ballet class with Libby Farr, contemporary class with Jason Respilieux, improvisation workshop with David Hernandez
Friday 7/1: from 9.15 until 17.30:
yoga class with Stéphane Bourhis, theory class with Tessa Hall, improvisation workshop with David Hernandez
Please note: when we have many registrations, we will work in two groups. In that case, the schedules might shift, but this will happen within the time frame as presented above.

3. Sat-Sun February 26-27, 2022 - Fee €55 - Max. 50 participants
Saturday 26/2 from 9.30 until 17.30
9.30: Registration
10.00 - 13.15: Theater, Kuno Bakker (group 1) // Rosas repertoire, Fumiyo Ikeda (group 2)
13.15 - 14.15: Lunchbreak + talk about PARTS
14.15 - 15.45: Contemporary, Rakesh Sukesh (group 1) // Rhythm class, Kaja Farszki (group 2)
16.00 - 17.30: Rhythm class, Kaja Farszki (group 1) // Contemporary, Rakesh Sukesh (group 2)

Sunday 27/2 from 9.30 until 17.30
9.15: Registration
09.45 - 11.15: Ballet, Laura Bachman (group 1) // Contemporary, Rakesh Sukesh (group 2)
11.30 - 13.00: Contemporary, Rakesh Sukesh (group 1) // Ballet, Laura Bachman (group 2)
13.00 - 14.15: Lunchbreak
14.15 - 17.30: Rosas repertoire, Fumiyo Ikeda (group 1) // Theater, Kuno Bakker (group 2)