18:00- PROGRAMME 1
NEW CREATION
Solo Marathon
For the 2017 edition of the Kunstendfestivaldesarts, the students of Generation 12 all created a (really) short solo- some kind of ID, from 1 to 3 minutes. This became the Solo Marathon. They revived Solo Marathon for Dansand! 2017, for the Festival d'Automne at CN D in Paris, 2018. For this festival, they are, once again, coming back to those choreographic objects to add some new ideas or experiences to them for the last time.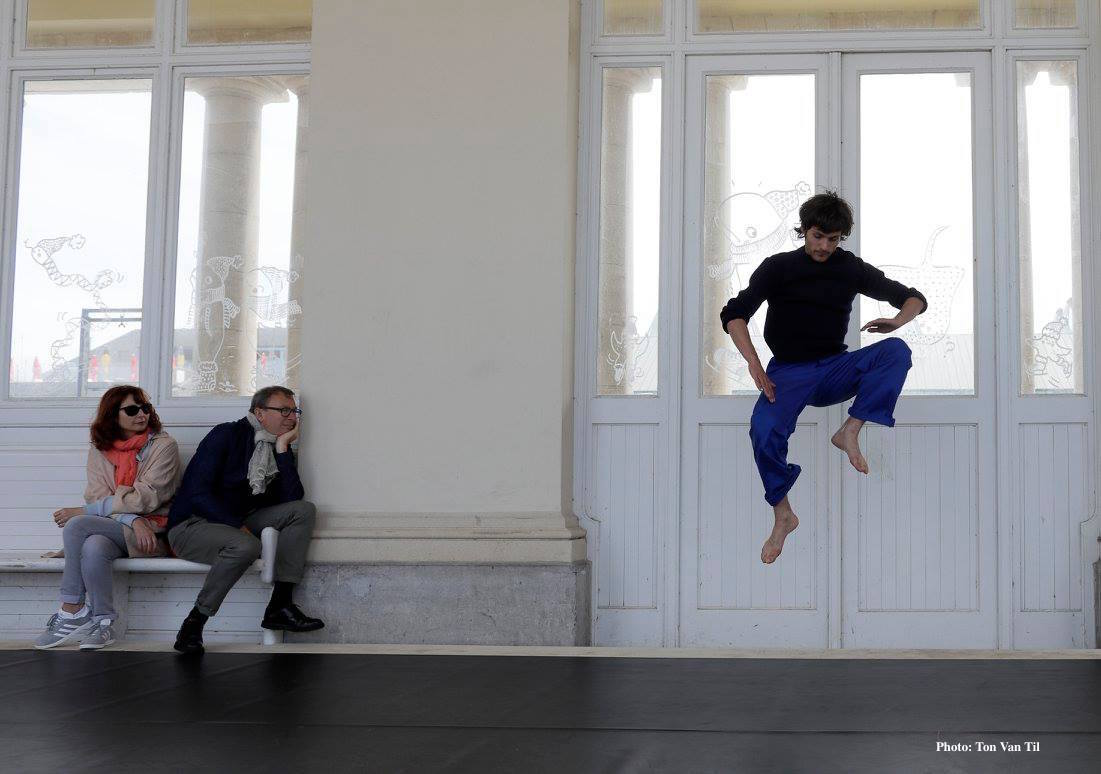 IN THE BREAK

PERSONAL WORK (from outside the curriculum)
Dear Deer
Performed and choreographed by: Eimi Leggett, Mariana Miranda, Wai Lok Chan

Unreachable distance from the heart even if I stand in front of you- can you hear me? Can you touch me? Protrusion from the heart as self-defence; thistles and thorns as weapons; come closer, get hurt, collapse, until we reach.

20:45- PROGRAMME 2
Work in Progress Session #1
We invite you to join us for Work in Progress Sessions. In these sessions, small groups of students will be sharing their work with you at this stage of its development. They will provide context for their works and maybe ask questions and take your feedback. Please come with an open mind and be ready to share your thoughts.

1. Into Waves
Performed and choreographed by: Hanako Hayakawa

Materialising spheres and networks, which envelope the space.
Point and point and point and point....and lines connect these points. A Hierarchy moves from bigger to smaller element from a central point.
2. Meanwhile we forget that the moon does rise
Concept/choreography: Cheyenne Illegems
In collaboration with: Gustavo Gláuber, Judith Van Oeckel, Mooni Van Tichel, Rita Alves
Performed by: Cheyenne Illegems, Gustavo Gláuber, Judith Van Oeckel, Mooni Van Tichel, Rita Alves

Remain calm but do not waste any time.
Close all windows and all doors.
Warn everyone around you.
Do not take any risk.
Follow the exit signs.
A success for the rational mind.
I'm here, I was just getting ready to you.
Be fucking kind!
Then I just began to relax.

In Meanwhile we forget that the moon does rise we explore ways of portraying bodies that are
using their voices.
3. amidst a like- commodified and concealed deceived awareness like truth
By: Ivan Lucadamo

thought, thought as a kind of material, forms itself and moving objects we,
both you and i and thought and moving objects, both form and acknowledge forming
-also forming and in between things, where you and i express and as expressions of
other things and something other.
and you, reading as you do, please read, in reading, reading as you do.